bookings
Music and Judaism have travelled hand in hand since Sinai. With contemporary rhythms that appeal to all ages, Sam Glaser's performances embrace the joy and hope of the Jewish people.
–Moment Magazine
Since 1992 Sam has performed over 1000 concerts, Shabbatons and workshops in Jewish communities around the globe. As a devoted Jew and an accessible, enthusiastic role model, Sam has a gift to move any audience to a greater love of their heritage. More than ever, the Jewish world needs uplifting, spiritual and inspiring programs and Sam Glaser has the experience to deliver. Call or email Marcia Baron today (800-972-6694, marcia@samglaser.com) to customize an event for your community.
CONCERT OPTIONS:
Community Concert
Shabbaton
Keynote Speaker
Kol Bamidbar Concert
Artist/Scholar in Residence Programs
Orchestral Concert
Creating a Custom CD
Rosh Chodesh Concert
A Community Concert With a Difference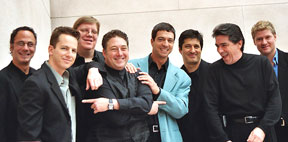 With a magical formula of music, humor and stories from over a decade on the road, Sam tailors new and familiar songs to any age group in a lively, participatory format. Sam loves it when day school or afternoon school children and/or choirs do a bit of preparation and join him on the stage. Regardless whether it is a solo show or with his full band, audiences leave a Sam Glaser concert spiritually uplifted, amazed at the vast range of emotions they have experienced and feeling a deep connection to the Jewish people.
"I have never seen such ruach at a performance before and it was a thrill to see children and adults dancing together for your finale. The students can be heard singing your songs in the hallways even weeks after the performance."
–Rolly S. Cohen, Bureau of Jewish Education, Chicago, IL
"You calibrated your program perfectly...the huge crowd remained with you until the spirited end...what better testimonial is there to a performer."
–Rabbi Alan Kalinsky, Director, Orthodox Union, West Coast
"The phone has not stopped ringing, the rave reveiws have not stopped, people are still talking about how great the concert was!"
–Linda R. Kirsh, Director of Education, Temple Beth El of S. Orange County, NJ
"Your music, your lyrics, your presence on the stage...all incredible! The joy of being Jewish and the appreciation, concern and hope that you hold so dear in your heart radiates. You are a treasure for the Jewish People."
–Lynn Bar-Lev, L.A., CA
The Shabbaton You've Been Praying For!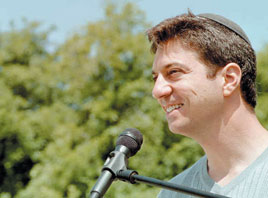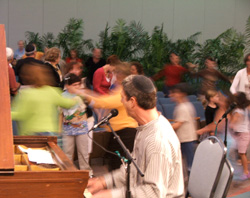 A Shabbaton allows for Sam to deeply connect with your community. As Cantorial Soloist, Sam has the ability to transform the prayer experience. At key points he offers explanations and tells stories while combining an ideal blend of traditional melodies and contemporary settings of prayers. Sam can engage the audience with sing-alongs at a communal Shabbat dinner and on Saturday Night bring the program to a climax with a moving Havdalah service and a rousing community concert. Shabbatons often are combined with any of the topics from Sam's popular interactive workshops (living inspired workshops). Participants in the Shabbaton emerge with a new vision of the potential for Jewish expression and a model for taking that commitment into every Shabbat that follows.
"WOW! That really sums up the weekend in a simple word. Nothing short of extraordinary. People are still talking, the community has a different outlook on Judaism and music. I did the right thing insisting on Sam rather than any of the other musicians/comedians that were suggested."
–Barbara Young, Greensberg, PA
"You touched the hearts and souls of all of us with your realness, passion and honesty. Spending Shabbat with you has changed the face of Tidewater...people here are now listening to Jewish music: your music. It is in their cars and homes. My children choose to listen to you instead of the Beatles."
–Karen Lombart, Co-Chair, United Hebrew School, VA
"Thank you for making our weekend a great success – your contributions in the davening, music and 'chevra-schaft' were terrific."
–Bentzion Kogen, Principal, L.A. Hebrew High School
"You brought wonderful spirit to our congregation. We clapped, sang and danced like never before. Your talent, your charm, your wholesomeness is so appealing to all ages. Thank you for sharing this wonderful gift that you have with others and for making Judaism so meaningful and fun."
–Mindy Chakov, Temple Beth Israel, Fresno, CA
An Unforgettable Keynote Speaker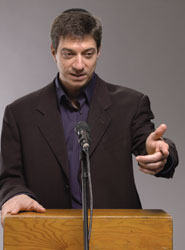 As participants in Sam's jam-packed sessions at CAJE, NATE, Biennial and Teacher Enrichment Days will testify, learning with Sam is a special opportunity. He combines wisdom on Jewish topics gathered from decades of study with a fluidity of delivery and level of enthusiasm that is contagious. Choose from over twenty-five workshop topics (living inspired workshops) ranging from basic text study to insights into mysticism for groups of any age and level of experience. Session(s) can be incorporated into a Shabbaton and can culminate in a group kumzitz and/or concert.
"I just wanted you to know that I had a great experience at CAJE and you were the reason. Your classes were a catalyst for me to explore Judiasm again. I'm getting a Siddur and I'm going to start my morning with prayer and gratitude...I have you to thank for that."
–Steve Zimmerman, Charleston, SC
"Sam loves to teach and loves Judaism. It makes for a great combination. His energy really comes through on Monday after Monday when I drag myself half asleep from work for the hour and a half trek to LA. Inevitably I come home more awake and peaceful than I when I left."
–Batya Amit, Los Alomitos, CA
"You make such a real and deep connection with those around you. The work you do is important on so many different levels. I truly enjoyed your presentation of the Ten Commandments...even your digressions never fail to entertain."
–Janice Rubin, Houston, TX
Kol Bamidbar ConcerT
A Transformational Experience for your School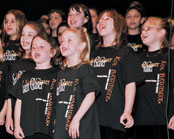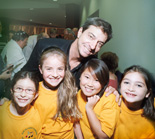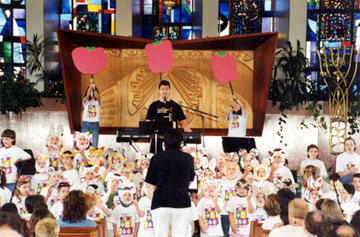 A unique "edu-tainment" opportunity, Kol Bamidbar/A Voice in the Desert is Sam Glaser's award-winning Broadway-style musical based on the Five Books of Moses. Over the course of a semester, afternoon and/or day school students prepare the easily-learned songs, libretto and classroom activities with their teachers, and after a two hour dress rehearsal with Sam on the day of the show, co-star for the whole community. Over thirty cities have produced Kol Bamidbar events with 80 to 800 kids on stage...make your school the next one! See Kol Bamidbar proposal
"Attention ladies and gentlemen, Vee Haf a Vinner!"
–Morton Gold, Kol Bamidbar Review, Syndicated Columnist
"You should have big dreams for Kol Bamidbar. It is truly an amazing creative work. It's also not easy to find a music program that's educational AND involves the whole school."
–Meris Ruzow, Albany, NY
"Since the concert, the Kol Bamidbar CD is always in my car and it is my daughter's continuous request on the way to school. Whenever I am having a difficult time, she tells me to put the CD and it will make me feel better. It's like going to a Torah class. It makes me cry, it makes me smile, it makes me dance in my seat, it gives me hope."
–Helene Kates, Atlanta, GA
"It was a wonderful afternoon for this community, a terrific opportunity for great Jewish edu-tainment! The kids in the choir will always remember the chance they had to be Jewish stars for the day."
–Lenora Stein, Executive Dir., Carolina Agency for Jewish Education, NC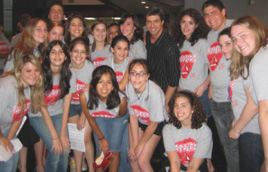 Scholar in Residence: Over the course of an emotional and spiritually invigorating week, Sam leads an exploration into any topic from his workshop list combined with sessions of stories and song, creating lasting camaraderie and instilling a passion for learning.
Teen Encounter: Sam connects powerfully with teenagers. One of the greatest gifts a benefactor can give to his or her community is a Teen Encounter program with Sam, often offered in conjunction with youth group regional conferences. Years later, these young people will remember how they had crucial questions answered, wrote new songs, sang, danced and connected like never before. Most importantly, they "get" that Judaism is SUPER COOL!
Musical Crash Course: Sam forms a cast from your community singers, actors and instrumentalists and whips up a custom show based on the strengths of the participants. Every Musical Crash Course is different but all culminate in a surprisingly professional collaborative citywide performance that makes stars out of the local community members.
Project Unity: Sam performs in Reform, Conservative, Orthodox synagogues, day schools and homes for the aged over the course of a week, customizing his concerts for each one. All groups come together on for a standing-room-only Sunday show where Sam skillfully integrates aspects of each appearance into one inspiring, unified program.
My Letter in the Torah: Sam spends the week in separate tracks of workshops with kids and adults building an appreciation of eternal connection with the Jewish people and our Torah. The program culminates with an interactive session with a professional sofer, a Simchat Torah-style parade and a meaningful Sam Glaser concert in conjunction with the local children. This is a perfect program to heighten the impact of a new Torah dedication event..
Sensational Orchestral Evening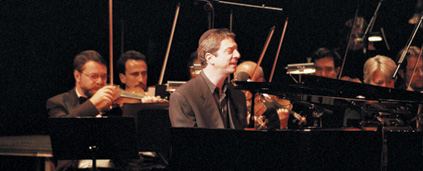 Sam's entire two hour concert set has been orchestrated! Combine his heartfelt compositions, rich baritone voice and concert grand piano playing with an orchestra and fasten your seat belts for the spiritual ride of a lifetime! Your local symphony or community orchestra and choir can be engaged to provide an unforgettable program using either local conductors or one that Sam can recommend. For the ultimate in an elegant and moving evening this option is hard to beat. See Sam Glaser with the LA Jewish Symphony.

Create a Custom CD Starring Your Community
After your local singers, soloists and/or instrumentalists rehearse a prearranged set of music, Sam conducts a two hour rehearsal and then an on-site recording session with his portable recording equipment. He then returns to his Glaser Musicworks studio in L.A. and mixes and masters a custom CD which is guaranteed to be cherished by the whole community.
Howling at the New Moon: Hallel Live!
"Howling at the New Moon," is a new, interactive musical service where Sam's complete Hallel CD is performed live with the entire community participating as the choir. Ideally this concert takes place on the actual day of Rosh Chodesh, the monthly celebration of the new moon. Copies of the CD with transliterated lyric sheets are sent to every member of the community that reserves a seat (or as downloads sent over the web) so that they come to the event ready to go. The audience "rehearses" the chorus of each song at the beginning of the concert and then a prayerful and moving Hallel is recited in its entirety. This powerful cantata is sure to create a Hallel experience that will never be forgotten.