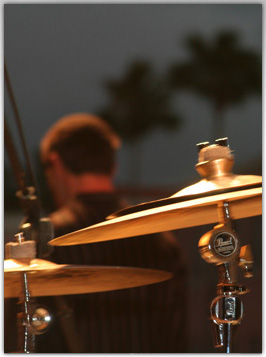 music
discography: 1989 to present
Excerpted from the liner notes of the Sony/JMG release Inspired: Best Of Sam Glaser
I will never forget the first time I heard Sam Glaser.
It was the summer of 1993 at the annual CAJE Conference San Antonio, Texas. Sam was at the piano belting out an absolutely make-your-jaw-drop tune called, Hineni. I don't think I had been that excited about a song since the first time I heard Rosalita. I bought the Hineni album, couldn't wait to get it home to my wife, and Sam Glaser's music has been a part of our life ever since. Sure, it's tempting to compare Sam to this or that great artist, but frankly, that misses the point. We have an ancient tradition that says, "Words that emanate from the heart, touch the heart." And that is what this music is all about. I don't care if it's as a soloist at the grand piano, rockin' with his band, or performing together with a full orchestra, Sam Glaser's music always goes right to the heart.

There are certain experiences in life, certain moments, for which mere words are inadequate. You know what you want to convey but the words in your mind just seem to fall flat. That's where an exceptionally rare kind of music steps in. Every once in a while we are blessed with a musician who is able to take our thoughts, our yearnings, our tears, our smiles—and the deepest rumblings of our souls—and weave them together into a melody. Into a form of expression that is at once inspiring, motivating, haunting, illuminating, and even fun. That's Sam Glaser. Through strikingly sincere lyrics and profoundly inspired music, Sam Glaser is able to take us on a journey to a place that is often hidden, always beautiful, and never quite what you expect it to be. Sam, like all of us, is on a journey. It's our good fortune that through his music he shares a bit of his journey with us, and in so doing, enriches our own. You want music to cruise down the highway with and belt out every word as you go? Music that will fill your spirit with a fresh, intense sense of optimism? Music that will make you feel like anything is possible? Music that will make you want to reclaim your deepest self, your awesome potential? Then do what I did in San Antonio, do what Sam did on his first album, and do what this CD does: start with Hineni and then go right on listening.

On a personal note, I want to thank Sam. Over a decade ago my wife said, "Why don't you just call him and tell him how much we love his music." And so I did. Since then, beyond the music, I've come to know Sam Glaser the person and all I can say is this: Through his music, this guy is sharing his deepest self with all of us, and once you hear the music, you will be glad he did.
Thanks Sam.

Shimon Apisdorf, wannabe musician, award-winning author and founder of the Jewish Literacy Foundation
1989
Midnight at the Ball

Midnight at the Ball is Sam Glaser's first full-length album. The lyrics describe growing up in a world with shrinking resources, senseless war and corruption, coupled with a hope for a new world order. Recorded on 8 track ½" tape, Midnight pushed the boundaries for a self-produced multitrack release and relied heavily on Sam's early adoption of MIDI technology. Sam's Thursday Night Band performed this material in nightclubs around Los Angeles including the Whisky, Roxy, Madame Wongs and Gazzaris. Their once-a-month stand at At My Place in Santa Monica earned them the Thursday Night Band moniker. Sam's supported his recording habit by working in the sportswear business with his father by day and operating his LAX Records recording studio with roommate/partner Chuck Sparks by night. To this date, Chuck has mixed and original TNB drummer Dave Hooper has hit the skins for nearly every CD Sam has released. Guitar wunderkind George K created the guitar atmospheres and backup vocals featured Greg Walker from Santana, Michael Lennon from Venice and Sam's long time soprano ally Michael Ian Elias. Midnight was released as Sam's scoring business was taking off…he became staff composer for the Dodgers, Angels and Clippers broadcasts and Midnight's opening track became the theme for Warren Miller Sports Television.
1991
Time Out

Time Out features a grooving collection of inspired songs describing dating frustration and relationships gone wrong…clearly Sam was ready to get married. The final track features a duet with fitness junkie and record biz executive Marcia Fassino, the woman that Sam would wed a few years later. This crisp production reveals the coalescing of the TNB and Sam's growing production skills, maturing songwriting and the blessing of the first affordable 16 track tape machines. Noted funk bass player Freddie Flewellyn replaced latin master Edgie Sierra in the Thursday Night Band lineup. Time Out also marked the start of Sam's lifelong friendship with musician/artist Ramiro Fauve who sang backup vocals and whose graphic talents have given all of Sam's products their unique and professional look.
1992
HINENI

Buy CD / Listen to Samples
Hineni is Glaser's first Jewish CD and became one of the best-selling Jewish albums of the year. Songs such as Shabbas, Pitchu Li and the title track have since become standards at synagogues, camps and Jewish households worldwide. This CD features the guitar work of Sam's buddy Bruce Burger (AKA RebbeSoul) and a new discovery, sax great Michael Lington. Sam composed the title track for a Capitol Records release to benefit Operation Exodus, helping raise the funds for Russian Jews to emigrate to Israel. It also became a hit for popular Jewish rocker (and Sam's childhood synagogue choir leader) Craig Taubman. Several of the songs were written during the Center for Jewish Culture and Creativity's month-long creative institute in Jerusalem where composers from around the world were invited to attend. The CAJE conference (Coalition for Advancement in Jewish Education) invited Sam to perform in front of an audience of two thousand educators…although the power went out midway through the set, Sam's "Hineni/Here I Am" launched Sam's first concert tour of the Jewish world. Includes perennial favorites Shabbas, Kol HaOlam Kulo, Ani Ma'amin and Pitchu Li.
1993
Shira

Shira is a collection of love songs composed for his beloved wife-to-be Marcia, AKA Shira, over the course of their two-year relationship. Released shortly after their August 1993 wedding, Shira tracks the ups and downs shared by countless couples on their way to the altar (or chuppah, as the case may be.) Shira featured Sam's newest musical discovery, versatile bass player Larry Steen, who has graced nearly every Sam Glaser release to follow.
1994
A Day in the Life

A Day in the Life is a deeply inspired collection of songs illuminating the beauty of the daily Jewish prayers. No expense was spared to bring the music to life, including a full horn section and an accomplished string quartet. This CD features the acoustic and electric guitar playing of Mat Gurman; Mat's diverse sound and impeccable technique would become a permanent presence in Sam's concerts and future albums, cementing the band membership to date. Sam answered the challenge of being called upon as a Jewish spokesperson by stepping up his commitment to the Sabbath, prayer and kashrut. One can hear generations of Jewish triumph, joy and pain in these songs influenced by Sam's newfound immersion in the ancient texts. Over a half dozen Jewish hits resulted from this effort including Modeh Ani, Oseh Shalom, V'ha'er Eynenu, Learning Machine and Born to Remember.
1995
Lullabies and Jitterbugs

Lullabies and Jitterbugs is Sam Glaser's first kids CD. Its release corresponds with son Max's first year on the planet, Lullabies was composed on the job trying to pacify his young charge. This CD is ideal for new parents and their lucky offspring while getting used to one another. Six of the songs are for playtime and six for bedtime, with one bonus instrumental track to put on repeat mode until Jr. is really out. The styles range from Broadway to big band, marches to tender ballads and all the songs are filled with love and humor.
1997
Across The River

Sam's third Jewish album Across The River celebrates the course of the Jewish year with moving songs about the major holidays and lifecycle events. He promoted this album in the fifty city One Hand/One Heart tour across the globe in '98/99. ATR was modeled after Goodbye Yellow Brick Road, employing the same themed sixteen song double album concept and a piece of original art for every song. Artist Harriet Glaser (Sam's mom,) supplied the sublime watercolors. ATR was one of the first Glaser Musicworks Studio releases, having been recorded in Sam's new state-of-the-art studio custom built behind his home. ATR ushered several "standards" into the Jewish world including the title track, Blessing, Asher Bara, Yisrael Shelanu and One Hand One Heart.
1999
Kol Bamidbar
A Musical Journey Through the Five Books of Moses

Glaser's next undertaking was a unique album/theatrical concert package entitled Kol Bamidbar/A Musical Journey Through the Five Books of Moses. This studio soundtrack album features thirteen songs tracing Jewish history through the stories of the Torah. Sam recorded this memorable "edu-tainment"-oriented music accompanied by his band and the newly formed Kol Bamidbar Childrens Choir culled from several school choirs in the L.A. area. Each year Sam supplements his concert schedule with large scale performances of this interactive musical with afternoon and day school students nationwide. The music and libretto are enhanced with classroom activity guides and performance options that deepen the learning experience. To date over sixty Kol Bamidbar events have transformed communities, some with up to 800 children participating, across all denominational lines. Kol Bamidbar launched the popular songs Letter in the Torah, Unbreakble Soul, Uvenei Yerushalayim, The Seven Days and the Bat Mitzvah Song.
2001
The Songs We Sing

The Songs We Sing features over seventy minutes of Sam and his band performing classic songs in the Jewish repertoire. The innovative arrangements and state-of-the-art production give new life to these standards that have been enjoyed for decades. A perennial bestseller in the catalogue, SWS was recorded live in the studio, without a click track and without strict form. Additional guitars and vocals were overdubbed but the essential roots of the sound are raw and unpremeditated. Guest drummer Jake Jacobs gave his heart and soul to his parts just after having completed the weeklong mourning period for his father and it is to him that the CD is dedicated. Selections include Adon Olam, Erev Shel Shoshanim, Bashana Haba'a, Kol Ha'olam Kulo and Yerushalyim Shel Zahav.
2002
The Bridge

The Bridge is a jubilant collection of fifteen upbeat Glaser originals celebrating the unifying themes that bind the Jewish people. Sponsored by Israel's Common Denominator organization, The Bridge CD was featured in unity concerts over the course of 2002/2003 where many communities accepted the challenge to involve at least three synagogues across denominational lines. Finally freed from the limitations of tape, The Bridge stretches Glaser's musical vision unencumbered by track counts and not having enough hands at mixdown time. Thanks to the ever increasing power of the Macintosh computing platform and the magical capabilities of MOTU Digital Performer software, The Bridge features soaring multitrack instrumental layering and a background vocal "wall of sound". Tonight Show trumpet player Lee Thornberg, a veteran of the band since A Day in the Life, penned the six part horn arrangements to five of the tunes. Groovin' from start to finish, The Bridge features In Israel, which became a theme song for the Nefesh b'Nefesh Israel aliyah movement, and other hits Al Shlosha D'varim, Od Yishama, Hallelu and Adon Olam.
O/See What You Want

O/See What You Want (oh - for "origins") is a concept album co-composed and produced by Sam and his best friend Ramiro Fauve. Speaking to the heart and the conscience, O's hypnotic music and lyrics convey a world vision of hope and love for humanity. While not a Jewish album per se, O is a deeply spiritual musical experience, drawing from progressive and alternative rock styles and indulging the senses with inviting textures. Given the interconnected quality of the songs and message, the album is best enjoyed in a continuous, uninterrupted seventy-minute span. O represents the most sophisticated production work of Sam's career to date and is part of countless fan's "deserted island" music collections.
Chashmal

Sam's other side project of the year was a Jewish "boy band" called Chashmal, meaning "electricity" in Hebrew. Imagine four nice Jewish boys with strap-on keyboards, plus guitar and drums, fancy outfits and ambitious choreography. Chashmal is an enthusiastic, upbeat CD and features an electronic rock sound with groove and attitude that is guaranteed to lift one to greater simcha. Composed, produced and arranged by Sam Glaser and Naftali Finkel, with vocals by Sam Glaser, Michael Ian Elias and Brad Schachter.
2003
Presence

Glaser's 2003 releases feature a pair of albums on the softer, more spiritual side. Presence is the "sister" CD to The Bridge, with fifteen introspective songs based on the themes of the High Holidays and the month of Tishrei. It features the most lush and precise orchestrations of Glaser's career and is a testimony to his growth as a composer and interpreter of Jewish text. Highlights include Believe in Me which became a regional hit on Christian radio, plus Achat Shoalti, Take Me As I Am, Tree of Life and Shehechiyanu. Presence is the first CD that Sam recommends when approached after concerts at the merchandise table.
Edge of Light

On the Edge of Light, Sam Glaser and concert pianist Sha-Rone Kushnir explore twelve of Sam's most evocative ballads from his first four albums. The music truly soars in this intimate, classical-cum-improvisational piano/vocal setting. A bonus piano only CD is included in the package and is ideal for meditation, massage and healing.
Sam Glaser Live at the ALEX

More Info and Concert Audio Highlights
With over 120 gifted performers on the stage, on February 9th, 2003 Sam Glaser delivered his most ambitious concert to date before an enthusiastic crowd at the historic Alex Theater in Los Angeles. Conducted by Dr. Noreen Green, the acclaimed L.A. Jewish Symphony integrated seamlessly with Glaser's eight piece band, an adult choir and the Kol Bamidbar Children's Choir. This event was produced by the Valley Alliance of Jewish Federations and featured twenty of Sam Glaser's hits from his first decade in Jewish music. The concert was professionally recorded to a high fidelity 48 track Pro Tools system but due to LA Music Union restrictions this recording is not for sale.
2004
Soap Soup

Soap Soup is a hysterical secular kids album featuring twenty new Sam Glaser songs for children and their families. This acclaimed recording has won such awards as Parent's Choice, the National Association of Parenting Publications and the John Lennon and International Songwriting competitions. Soap Soup touches upon themes that make kids laugh and sing in their daily lives, highlighting such activities as eating ice cream, birthday parties, the zoo, taking baths and family vacations. Released as a labor of love for his three children, Soap Soup has become one of Sam's most popular titles. Top songs are Family Vacation, Ice Cream, Sarah, Trip to the Zoo and Hummingbird.
2005
inspired/best of Sam glaser

Sam's "Greatest Hits" collection has eighteen of the most requested songs culled from his plethora of Jewish albums. Sam was one of the first artists signed by Jewish Music Group, a division of Sony Music which seeks to bring the Jewish genre into the mainstream. This CD represents their first collaborative release and has served as a launching point for thousands of new fans into Sam's catalog. It also features the previously unreleased Hatikvah recorded in Techno style, and an updated fully orchestrated version of Sam's first hit Hineni.
2006
Nigun/Voice of the Soul

Nigun/Voice of the Soul is a collection of nineteen spirited nigunim (songs without words,) and features a co-production effort with acclaimed world-beat guitarist RebbeSoul. Although most of the songs are penned by Glaser, a few of the classics are included to round out this festive, wordless collection. This novel combination of klezmer, reggae and world music styles is enhanced by noted country music bassist Chad Watson, hip hop drummer Paul Allen and klezmer kings Leo Chelyapov and Ruben Berci. Guest vocalists include members of such notable Jewish bands as Moshav, Soulfarm, Blue Fringe, Gershon Veroba and Beatachon. The beauty of a good nigun is that one can't keep still when listening and it's almost impossible not to sing along.
2007
Sam Glaser's Rockin' Chanukah Revue

Sam Glaser's Rockin' Chanukah Revue is a wild musical adventure celebrating this favorite of family holidays. Sam and his original band are joined by a variety of guest musicians and a children's choir from Harkham Hillel Academy. The Revue features a mix of clever parodies, traditional Chanukah hits and Sam Glaser originals. This CD injects fresh energy and meaning into the traditional Chanukah fare with over twenty songs guaranteed to rock all ages. Many songs have become part of Sam's concerts year-round including Macabee, Latkes and the bonus track, My Sukkah's on Fire. This album was the recipient of the Parent's Choice award and was featured in Jewish Life Television's "Sam Glaser's Rockin' Chanukah Special."
2008
Hallel

Sam Glaser's Hallel is a jubilant musical experience that expresses mankind's ultimate joy and deepest gratitude. Released in 2008, Hallel incorporates the full text of the Hallel Service which is the climax of the prayers on most Jewish holidays. The Psalms of King David take on a new life within sophisticated new rock/worldbeat settings. With Hallel, his twenty-first CD release, Glaser reaches new heights with his heartfelt compositions, rich baritone voice and detailed production. The innovative arrangements feature Sam and his eight piece band, strings, adult and children's choirs and an array of guest vocalists.
2010
The songs we sing, volume 2

Two years in the making, SWS2 is the follow up to the bestselling 2000 release the Songs We Sing: Volume Two includes contemporary versions of 28 classics of Jewish music featuring Sam, his full band and an array of guest vocalists. These are the common denominator songs that unite the Jewish people, immaculately recorded, a double length program squeezed onto one CD. SWS2 utilizes the same lineup as SWS1, a group of world-class musicians who have made a career out of interpreting Jewish music. The release of this CD marks Sam's Chai year; a wonderful eighteen years of touring in the Jewish world.
2011
Fatherhood

Fatherhood is a compilation of spirited, moving songs about fathers, parenting, families and lifecycles. It features 11 of Sam's new compositions that are among the most heartfelt of his career; rounding out the collection are four classic cover tunes: Neil Young's Old Man, the country hit Butterfly Wings, Harry Chapin's Cats in the Cradle and the Temptation's Papa was a Rolling Stone. New additions for this album are Jerry Watts, the quintessential LA "Low Tone Specialist" and guitarist extraordinaire James Harrah. Sam performed much of this music at a recent Father of the Year award dinner in Tucson, AZ and the response gave him the incentive to complete the project. The event raised money for Diabetes research; Sam decided to donate a portion of the proceeds to this cause and dedicated the CD to his beloved father.
2012
The promise

Sam Glaser's The Promise is an inspired, all new musical celebration of the gift of the Land of Israel. It explores the love affair with the Promised Land through the biblical period, two millennia of exile and the past sixty miraculous years of aliyah (return.) Two years in the making, The Promise represents the apex of Sam's songwriting and production talents and features his top-notch band of LA-based musicians, gifted guest vocalists and a children's choir. The Promise is already hitting the airwaves with songs Inside of Yerushalayim, Mezuza, Dancing in Jerusalem, Hatikvah and the title track. The Simple Song for Israel video has had several hundred thousand hits on YouTube and jumps up whenever lovers of Israel need to hear a reassuring message of the eternal Jewish quest for peace.
2014
TOWARDS THE DAWN

Towards the Dawn picks up where the first Edge of Light album left off: over seventy minutes of powerful renditions of Sam Glaser's most moving songs in a bold pop/classical/jazz setting, featuring concert pianist Sha-Rone Kushnir, virtuoso violinist Leah Zeger and Mike McGuffey on trumpet and flugelhorn. Marking his twenty-fourth album release, Glaser reaches new heights with his heartfelt compositions, rich baritone voice and detailed production.  Using Hebrew lyrics from Jewish liturgy and the Psalms together with Glaser's incisive English interpretations, Towards the Dawn is a profound sonic journey of the mind and spirit.